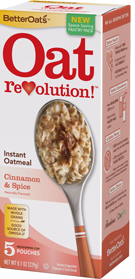 Better Oats go on sale for $1.00 at Target quite frequently. They are $1.33. Save the coupon for a sale unless you're like me and just have to have them now!
Better Oats $1.33, Regular Price
Use

$0.55/2 – Better Oats – (betteroats.com)




Final Price: $1.05 each when you buy 2
Thanks KCL!!