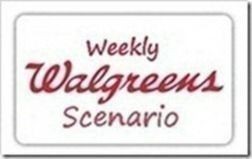 The # of items should always match the # of coupons — if not, you need a "filler" – preferably something "cheap".
In ad coupons don't count as coupons, so you just pick up some thing inexpensive…..ie. something with a Walgreens in-ad coupon (like Paper Towels, Pencils, Candy, etc). You can use one Manufacturer coupon + IVC + in-ad coupon per item.
Finally, keep in mind that Register Rewards are manufacturer coupons.